Our Mission
Increasing the welfare of patients and improving the efficiency for patients and hospitals.
We do this in a committed and personal way, through a continuous innovation and a close cooperation with our clients, patients and partners.
Peter Sommer
Founder BeagleBoxx
Service concept
BeagleBoxx facilitates and supports hospitals and institutions in the specific interactive communication with patients at a hospital, ward or personal level during the entire patient period.
Our service concept focuses on increasing the welfare of patients and on improving the efficiency for patients and for hospitals/institutions.
We do this through pioneering mobile technological solutions:
PIECA
PIECA is a service platform focusing on patients, for which modules have been developed. These modules are functionalities which are reflected in our Applications for patients and staff. We develop the modules on the basis of the wishes of our clients and the mission followed by BeagleBoxx.
Research among patients of the Dijklander Ziekenhuis in Hoorn (NL) shows that BeagleBoxx has made a great contribution to the welfare of patients in the hospital with PIECA and the iPad.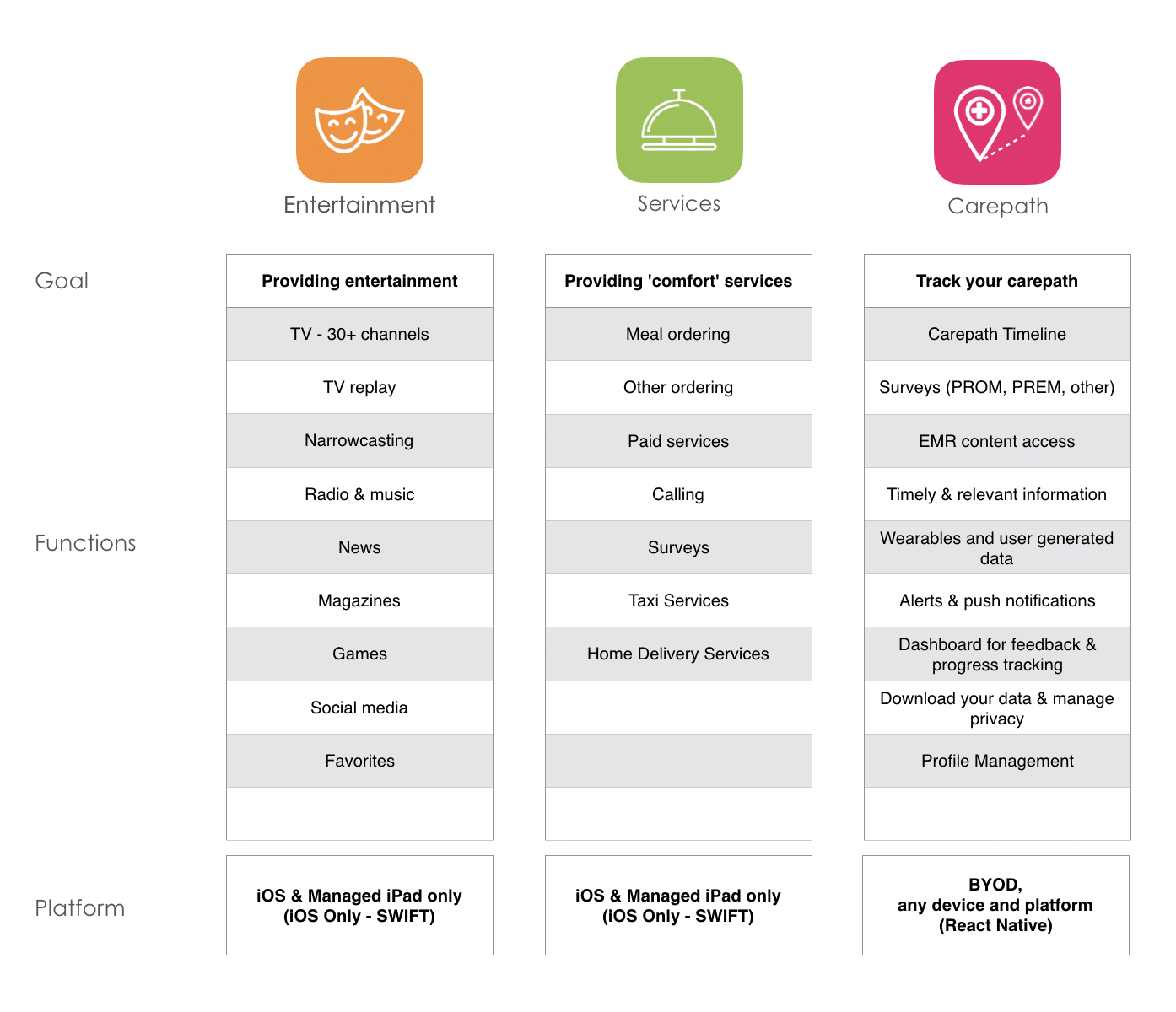 Advantages
Patient
The BeagleBoxx service concept has the following advantages for patients:
Easy to use
Modern modules in the field of Coaching, Services and Entertainment
Relevant information at any moment
Entertainment whenever you want
Prevents isolation in the hospital
Increases comfort of patients
Reduces stress
Improves efficiency
Feedback
Professionals
Experience shows that the BeagleBoxx service concept also has great advantages for professionals:
Stimulates self-reliance of patients
Relevant information, diversion stimulates welfare
Can be used during the entire patient period
Personal 1-to-1 communication possible
Support of the profession
Depending on the options of the hospital, processes such as ordering meals, communication with the nursing staff and service employees or intake and exit interviews can be supported and greatly simplified.
Hospitals/institutions
The BeagleBoxx service concept has the following advantages for hospitals/institutions:
Easy to start
Innovative
Relative limited investment
Use of iPad – stable, safe, easy to use, continuous evolution, iOS, retains its value
Safe integration hospital systems
Flexibility – for example, in service package, offers, approach, speed, implementation, training, deployment, exploitation, funding  models
BYOD patients – service package on own iOS and/or Android devices
Contact
Our approach always goes hand in hand with a clear planning, in which the standard parts of a project are incorporated. If required, the project can be followed online. All this is done with complete transparency.
If you are interested to know what BeagleBoxx may mean for your organisation, or would like to receive a tailor-made offer or request an introductory meeting, please contact Peter Sommer, +32 47 39 34 1 33 or send an email to peter.sommer@beagleboxx.com.
BeagleBoxx is a private limited company with branches in Belgium and the Netherlands. We are active in the BENELUX.
BeagleBoxx België
Tervuursesteenweg 81
3080 Duisburg
Belgium
+32 (0)2 306 88 95
+32 47 393 4133
---
BeagleBoxx Nederland
Wegalaan 46
2132 JC Hoofddorp
Nederland
+31 (0)6 86 85 1813
+31 (0)20 760 1159
Mail us